HO Scale Denver & Rio Grande Ski Train Complete Set!

EMD F40PH Later Phases
Following on the success of our HO scale Amtrak Phase 1 models, Rapido Trains Inc. is pleased to announce the Phase 2 Amtrak F40PH in HO scale.
Our model has been scaled from original Amtrak and EMD blueprints and has been de-signed with the help of F40PH fans and current members of the Amtrak team who are themselves model railroaders. Customers can thus rest assured that the locomotive is dimensionally accurate from nose to tail.
Amtrak's second F40PH order incorporat-ed several changes to the original Phase 1 design. Phase 2a and 2b units (230-279, 280-328) received larger 1800-gallon fuel tanks mounted toward the front of the frame. The air reservoirs were shifted to-ward the rear and to the engineer's side, while the battery boxes were located on the fireman's side. Newer and wider Nathan K5LA horns were specified, requiring a wider horn notch on the cab roof. Units 280-328 (termed Phase 2b) had four vertical ribs at the rear of each side.
When new EPA regulations took effect in 1980, the radiator fans were replaced by quieter Q-fans creating the Phase 3 version of the F40PH. Phase 3 F40s share other spotting features with the Phase 2b F40. Many Phase 3 units were built for commuter agencies as well, but without dynamic brakes.
Amtrak's F40PH units were eventually fitted with nose ditch lights. Around the same time the cab side steps and door were modified. Several F40PH units were sold to second-hand owners for use in regional and tourist services.
Rapido will offer both versions of the Phase 2b – original and ditch light-equipped with modified cab details – as well as a non-dynamic brake Phase 3 commuter unit.
Our new HO scale F40PH models continue the unprecedented level of detail offered on our Phase 1 F40PH model.
• Extensive, separate underbody piping and conduit
• Correct body details for each variation
• Era-specific details
• Working head lights, backup light, strobe and marker lights
• Working ditch lights where appropriate
• Separate, factory-applied wire grab irons
• See-through, etched-metal radiator grills and dynamic brake grills
• Full cab interior painted in correct colors
• Scaled from original blueprints to ensure accurate dimensions
• Accurate fuel tank profile and exhaust silencer
• Sound-equipped models feature a custom ESU LokSound V5 decoder
This set includes:

224-83611 Rapido - HO Scale - Modernized F40PH w/Ditch Lights - with DCC & Sound - Rio Grande Ski Train (DRG) Amtrak (AMTK) #242 - Phase IIb with Ditch Lights (Orange & Gray with Black Lettering)

224-83612 Rapido - HO Scale - Modernized F40PH w/Ditch Lights - with DCC & Sound - Rio Grande Ski Train (DRG) Amtrak (AMTK) #283 - Phase IIb with Ditch Lights (Orange & Gray with Black Lettering)

224-83613 Rapido - HO Scale - Modernized F40PH w/Ditch Lights - with DCC & Sound - Rio Grande Ski Train (DRG) Amtrak (AMTK) #289 - Phase IIb with Ditch Lights (Orange & Gray with Black Lettering)


224-131203 Rapido - HO Scale - D&RGW - Rio Grande Ski Train (DRG) - Mount Massive (Coach)

224-131204 Rapido - HO Scale - D&RGW - Rio Grande Ski Train (DRG) - Mount Princeton (Coach)

224-131205 Rapido - HO Scale - D&RGW - Rio Grande Ski Train (DRG) - Pikes Peak (Snack Coach)

224-131206 Rapido - HO Scale - D&RGW - Rio Grande Ski Train (DRG) - Pyramid Peak (Snack Coach)

224-131207 Rapido - HO Scale - D&RGW - Rio Grande Ski Train (DRG) - LaPlata Peak (Snack Coach)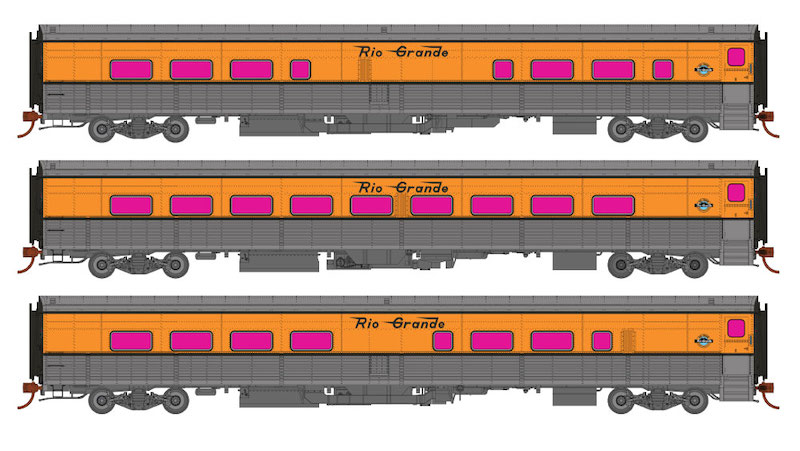 224-131202 Rapido - HO Scale - D&RGW set #2 - Rio Grande Ski Train (DRG) - Glenwood Springs, Winter Park, Mount Evans (Cafe Bar Lounge / Club / Coach)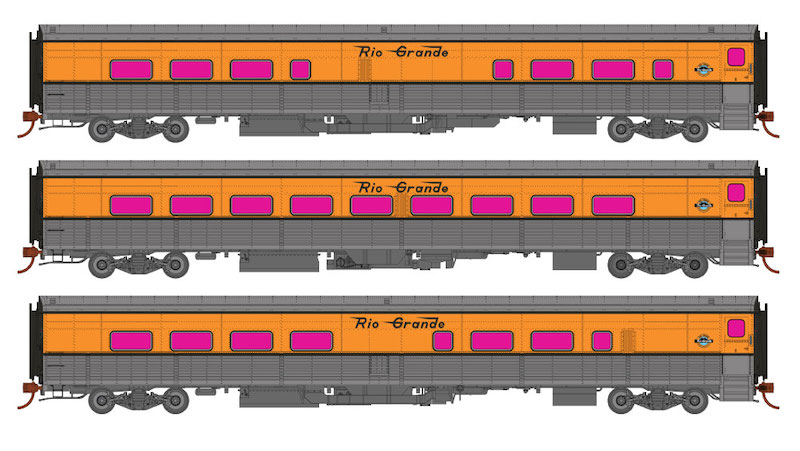 224-131201 Rapido - HO Scale - D&RGW set #1 - Rio Grande Ski Train (DRG) Colorado Springs, North Park, Mount Elbert (Cafe Bar Lounge / Club / Coach